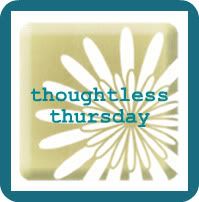 Here's the rules. Basically you just post random pictures. Of whatever you want. From however long ago you want. With no 'splainin' (or if you'd like, plenty of 'splainin', which is how it tends to go with me ...) whatsoever.
I'm going to use Thoughtless Thursdays to go back and blog about some events I didn't get a chance to! First up, Janice and Marta's birthdays! We went to Jarrett's. YUM!
Linda (Tom's sister) and Aunt Janice
Me and Tom, we had JUST gotten home from our honeymoon
Chris and Marta (Tom's sister), the other birthday girl!
Laura (Tom's sister) and Mark

I didn't get pictures of everyone but I thought the ones I did were cute!